Exterior Stone Flooring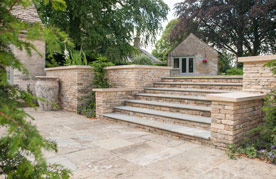 Natural stone has always been a popular choice for external stone flooring projects. Perfect for porches, patios and garden areas, it's also a wonderful way to set the scene for conservatories, boot rooms and orangeries, and bridge the gap between indoors and outdoors.
Whether you're looking for a charming, rustic style, or a clean and modern look, you'll find plenty of choice in our collection of exterior stone flooring to add the perfect finishing touches to your home or garden project.
Depending on the nature and layout of your space, we can offer stone in different styles to suit your needs – from traditional flagstones to modern tiles, authentically aged stone reminiscent of churches to sleek, sharp-edged contemporary designs. Although we offer other varieties of natural stone, we specialise in limestone – it's very hardwearing and comes in different colours, so it can be a wonderful option for a wide range of exterior stone flooring projects.
For traditional properties and gardens, riven paving stones and cobbles are a popular choice. The clean lines of limestone and sawn sandstone lend themselves to more contemporary settings, fitting in seamlessly with smaller urban spaces or bigger modern properties. Using stone adds robustness, permanence and inherent quality to exterior stone flooring projects. That's why so many people prefer investing in authentic products that stand the test of time and won't date.
We don't just offer solutions for exterior stone flooring for the garden. While you might be looking for natural stone flagstones and paving for your patio and driveway, why not give a new look to ornamental ponds and water features at the same time? Choose a stone that works in tandem with nature or opt for an edgy alternative such as slate, marble and sandstone. You'll find a choice of finishes, too – honed, tumbled,textured or polished tiles – to enhance your environment.
Whatever the nature of your exterior stone flooring project, we can help. Call 01780 740970 or get in touch here. We look forward to hearing from you.